Despite the frigid Michigan zone 5b temperatures, gardening lives on 365 days a year in my world even when I am indoors!
Greeted with a cold gush of air in the dead of winter, can you imagine how delighted I was to discover The Little Acre™ ?!?

Here's what I love about The Little Acre™:  It is truly so simple and convenient to set up.  It has multiple uses and appeals to a very large audience!  So perfectly designed to engage and encourage growing!
Follow these simple steps to start gardening:
1. Unfold the bag, set it in a sunny place, fill it with 10-11 cubic feet of  soil/compost combo
2. Plant your favorite veggies, herbs, berries and flowers – seeds or plants
3. Water!
Yep, it's that easy.  For me, it is perfect for growing herbs!  Until spring arrives and warmer temperatures, I will patiently wait and develop my planting strategies!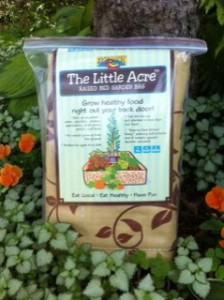 May all your gardens grow,