Congratulations Kathy Garrity!!
Please email your shipping address to: jan@twowomenandahoe.com
Thank you for participating!
Happy Summer, Friends!
✿✿✿
Happy First Day of Summer, Friends!
Once again I am delighted to be part of the Gardener's Supply Company's product review program. This high quality outdoor bar is a perfect way to kick off the summer! I am excited to host this giveaway because one lucky reader is going to WIN their very own outdoor bar! Are you ready to play?
✿To enter today's giveaway, leave a comment below – tell me your favorite herb to plant! One entry per person, please.
✿Comments will close by 9:00 p.m. EST on Friday, June 24th.
✿The winner will be chosen by Random Number Generator and announced in this post shortly thereafter.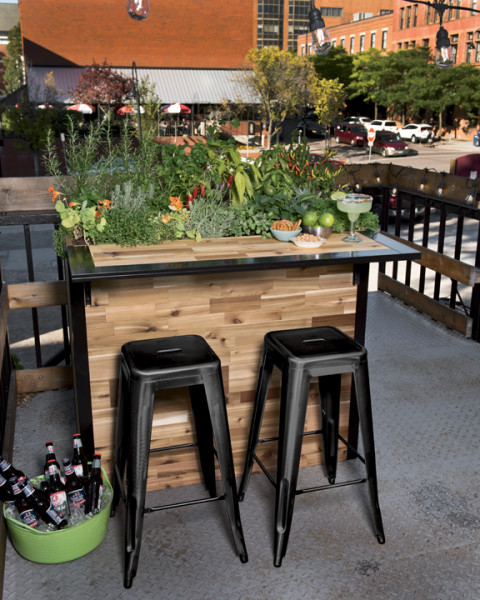 Outdoor bar
The reclaimed wood outdoor bar is a 2' x 4' elevated raised bed made in Vermont with a bar shelf to hold drinks and snacks. When not in use, simply fold the shelf down. Either way, it's attractive in any outdoor space! Bonus: the planting area is large enough to grow vegetables like tomatoes and your favorite herbs for cocktails. Now you and your friends can pick and sip!
Reclaimed wood
The reclaimed wood is high-quality North American cedar and perfect for outdoor use. The bar is 3.5 feet high – an ideal height for standing or leaning on while sipping your favorite beverage of choice!
Assembly is easy – follow the directions carefully and take your time. I recommend asking a friend to help with the assembly – it's definitely easier with two people.
Product Details
Assembly required
​Butcher-block cedar, aluminum
4′ L x 39-1/4″ W (including shelf) x 42″ H
9-3/4″ planting depth
Holds 180 quarts of potting mix
Weighs 123 lbs.
Ships in two 60-70 lb. boxes
Stools sold separately
Gardener's Supply Exclusive
FYI: Gardener's Supply Company is on Facebook, Twitter: @gardenerssupply and Instagram: gardeners.
Friends, I am so excited for you all. Please tell your friends, share the summer fun because someone is going to be a winner…good luck! Cheers!