Please follow and like us:

I am very honored and delighted to share one of MANY wonderful recipes from a dear friend!  Debra Hempe is a homemaker, freelance photographer/writer, world traveler, explorer and a DYNAMO in the kitchen!
Please visit Debbi's website Smart Cooking for more TANTALIZING recipes and follow her on Twitter at @vagablonde515!!
Thank you Debbi!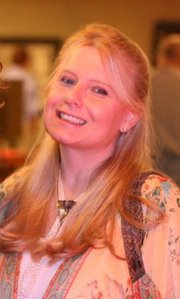 I'm always looking for new and different side dishes to accompany our burgers. The burger of choice at our house is the lean and delicious Bison Burger.  For this meal I'm using my husband's freshly baked sourdough bread instead of a classic bun.
The finely shredded Brussels Sprouts in this recipe mimic shredded cabbage making the dish reminiscent of a warm slaw. It is a perfect compliment to both a good burger and a lavish holiday meal.
Ingredients &  what you will need:
1 slice bacon (optional)
1 Tbs butter
1 Tbs olive oil
½ of a red onion ~ thinly sliced
1 green apple ~ sliced
2 cups of very finely shredded Brussels Sprouts
3-4 Tbs of a good thick balsamic vinegar
Salt and pepper to taste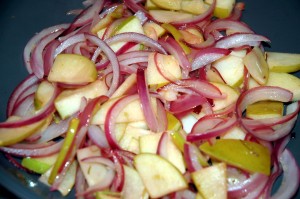 Next,
Cook one slice of bacon and set aside to cool
Heat a frying pan and add the olive oil and butter
Add the thinly sliced red onion and apple
Cook very slowly on a low to medium temp till onions and apples  are partially cooked ~ about 10 minutes
Add the shredded Brussels Sprouts, mix with the apple and onion
And cook for another 10 minutes
Keep cooking till the Brussels Sprouts are tender and soft
Then,
Add 3-4 tablespoons of good balsamic vinegar and cook for another minute or two
Add the bacon bits and stir to combine (optional)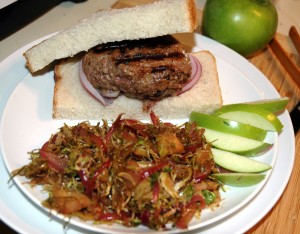 Serve & enjoy!
Debbi
Find more lip-smackin' recipes at Debbi's blog!