Please follow and like us: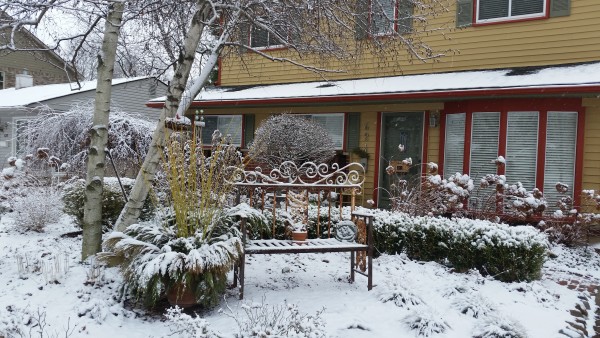 Winter in Michigan
Winter has been sparse in Michigan this year – very little snow accumulation and warmer than usual temperatures. The other day it snowed a bit so I grabbed my camera and headed outdoors. After all, winter gardens are just as lovely as the others.
In fact, when I design gardens for clients, I always consider winter interest. Peeling bark, spent flower blooms, boulders and benches, to name a few, all add interest to the winter garden.
I thought I would share a few of my winter pictures with you, in case you are missing the snow, too! If you have any great pictures of  your winter garden, please share them on our Two Women and a Hoe Facebook Page, we'd love to see them. In the meantime, I hope you enjoy a few pictures of my little winter wonderland! Thank you, Mother Nature!