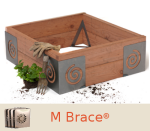 All through the long winter, I dream of my garden.
On the first day of spring, I dig my fingers deep into the soft earth.
I can feel its energy, and my spirits soar.
~Helen Hayes
Welcome to our Ultimate SPRING Fling!  . . . → Read More: The ULTIMATE SPRING Fling Give-a-Way!