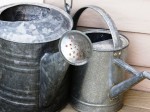 Over and over, we have to go back to the beginning.
We should not be ashamed of this. It is good. It's like drinking water.
~Natalie Goldberg
So often I am asked by our clients how to care for their new landscapes. When to water . . . → Read More: Take Time for Refreshment!