Please follow and like us:

The 'Amen!' of Nature is always a flower.
~Oliver Wendell Holmes
I simply adore this time of year when hydrangeas make their stunning debut and steal the show in the garden!  This is exactly what I wait for all season long!  The beauty of all hydrangeas take my breath away…but the exciting and unique 'Limelight' Hydrangea paniculata brings out the giddy gardener in me!
'Limelight' hydrangea's soft lime green blooms held above the dark green foliage resemble a triple scoop of soft-serve ice cream. To me, the luscious tapered blooms just scream "Summer time!" The impressive flower heads can get up to 12 inches long and stand upright on the shrub for an extraordinary and lovely display with no drooping! It's a strong shrub with flower power! Another thriller with this beauty… as autumn approaches, the blooms gracefully change to a rich deep pink that lasts through late fall and offers wonderful winter interest.
Of all the hydrangeas, the 'Limelight' is the most adaptable to different soil types and prefers full sun to light shade. In fact, they are extremely hardy and very tricky to kill…oh yes, my kind of ornamental shrub! The beautiful 'Limelight' can be easily maintained as a small shrub or trained into a small tree. I prefer pruning my 'Limelight' hydrangeas in early spring by simply cutting off the spent flowers to make way for new ones! Bonus: the spent flowers add great winter interest and are a constant reminder of what's to come. A hard pruning in spring will produce larger flowers…just cut the shrub back by 1/3 to 1/2. I will prune my 'Limelights' back very hard this spring and as a result the foliage will be much denser.
Interested in attracting attention to your landscape and gardens with an outrageously gorgeous effect? I recommend planting the 'Limelight' in groupings or masses. Hands down you'll not be sorry and you, too, will wait for their coming out party each season like I do!
GROW IT:
Botanical name: Hydrangea paniculata 'Limelight'
Common name: 'Limelight' hydrangea
Hardiness: USDA Zone 3 -8
Bloom Time: Begins in late July – early August. Blooms last through late fall.
Height: 6′-8′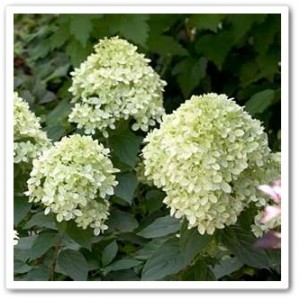 May all  your gardens grow!