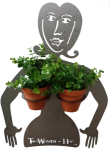 The Implant Lady™ makes a BLOOMING joyful statement wherever she goes!
Simply hang her on a favorite wall, fence or gate, or prop her up in the GARDEN. Add whimsical interest by changing her pots each SEASON. She LOVES to mix it up – the possibilities are ENDLESS!
Her unique and quirky silhouette holds . . . → Read More: The Implant Lady™ – Fun Garden Art!